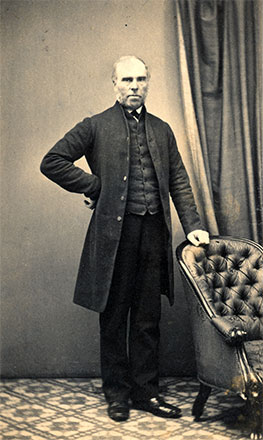 Robert Dixon
Last Name
Dixon
Given Name:
Robert
Arrival in Queensland
1839
Date of Birth
4 April 1800
Place of Birth
Cockfield, Durham, England
Date of Death
8 April 1858
Burial
Camperdown Cemetery, Sydney
Place of residence in Queensland
Eagle Farm
Spouse
Margaret Sibly
Date of Marriage
24 July 1839
Place Married
Moreton Bay (1st couple married in Moreton Bay)
Children
6
Occupation
Surveyor
Explorer

Robert Dixon, surveyor and explorer, arrived at Moreton Bay in 1839. He surveyed Brisbane
Town and created the first map in 1840. Dixon moved to Toongabbie on the outskirts of
Sydney in 1842. He died in Sydney in 1858 at the age of 58.
In 1821 Robert Dixon arrived in Van Diemen's Land with his brother George. In 1826 Dixon sold his land holdings to his brother and moved to Sydney, where he was appointed assistant surveyor in the Surveyor-General's Department. He explored new territory and conducted many surveys in the southern regions of New South Wales.
In 1839 Robert Dixon was engaged to survey the Moreton Bay district. He set sail from Sydney on 29 April 1839 with two assistants, Granville Stapylton and James Warner and 21convicts. Valuable equipment, horses, supplies, stores and a small boat were to be shipped to Brisbane Town at the same time, but much of it failed to arrive. Dixon's party were still waiting for them to arrive 7 months later.
On 24 July 1839, the Reverend J.C. S. Handt married Robert Dixon and Margaret Sibley at Brisbane Town. Both were free settlers.
Dixon's first undertaking was to send an extensive report to Governor Sir George Gipps on the German Mission Station at Zion Hill (now Nundah). From a base camp at Eagle Farm the party began work on a plan for Brisbane Town. Dixon proceeded to conduct a trigonometrical survey to produce a map of the settlement.
Stapylton and his convict assistants were camped in the bush near Mt Lindsay on 31 May 1840 when they were attacked by Aborigines. Staplylton and the convict William Tuck were murdered. Tuck was buried on site and the body of Stapylton was brought back to the settlement for burial.
Dixon was promoted to the rank of surveyor in 1840, but was relieved of this position in 1842 due to claims of insubordination by Gipps. Shortly afterwards, Dixon moved to Toongabbie on the outskirts of Sydney where he carried on farming up to his return to England in 1846. In England he worked as an inspector on the railway until he moved back to Australia in 1852. Dixon then managed the Grand Monarch Gold Mining Company in the Nundle district of New South Wales but the venture failed.
Dixon's health began to fail and he died on 8 April 1858 at his home in Cumberland Street Sydney.
Newspapers
Sydney Mail
20 November 1929
Papers and pamphlets
Pioneering surveyors of Moreton Bay District
Fisher, R and Harrison, J.